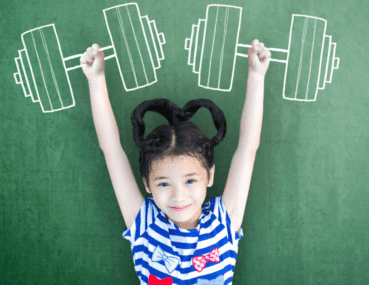 Being a parent often comes with a lot of worries: will they be happy? Will they be successful? By guiding them and building their confidence, you can ensure your answer to both these questions is a yes.
By teaching your children what confidence is, they'll not only survive but thrive! After all, self-confidence is important for personal and professional success.
Self-confidence comes from one's own perception of themselves. It's how they see themselves in society, and their worth is often built on how capable they feel. This can come from a variety of achievements, big or small.
So how can you help ensure they go through life with high self-confidence?
Guide Them in Setting Realistic Goals.
Accomplishing a goal can go a long way in raising your child's self-confidence — the trick is to make sure your child is setting realistic goals. Maybe your child sets a goal to read 50 young adult novels in one month. Though this is an excellent goal, remind your child he or she still has to make time for school, clubs, family and friends! Help your child come up with a more reasonable number of books so he or she can accomplish this goal. Then celebrate this accomplishment!
Related: Books To Inspire The Inventor In Your Home
Nurture Independence in Your Child.
Children who accomplish goals without help from anyone are building self-confidence. Avoid the temptation of hovering or instructing your child — give him or her a chance to figure it out! This will make their eventual success even sweeter.
Encourage Persistence.
Success doesn't come immediately, all the time! There will always be setbacks and criticisms, so use these obstacles as a learning experience for your child. Say your child joins the swim team but finishes last during practice races — he or she may want to quit. Acknowledge their feelings but encourage your child to get in more practice in order to improve. Let them know the importance of persisting in an activity especially when success doesn't come right away.
Related: Importance of the Engineering Design Process
Model What You Want Your Child to Learn.
Your child is looking to you for direction. One of the most helpful things you can do is model self-love and positive self-talk. Celebrate your accomplishments as a family, talk about the skills and efforts needed to achieve such accomplishments. Remember, your kids are always watching you and your behavior!
Encourage Your Child to Try the Unfamiliar.
Tackling an unfamiliar activity can certainly build a child's self-confidence! Encourage your child to try new activities so that they may get used to stepping out of their comfort zones. Remind them that even adults can feel uncertain when trying new things, but the results can be wonderful!
If you're looking for new, perhaps unfamiliar, activities for your child, consider one of our programs! From birthday parties and scout events to homeschool enrichment programs, we're proud to offer a variety of fun and challenging projects that are specifically designed to enhance your child's skills and knowledge.
Let your kids know the joy of overcoming their fears and discovering hidden talents — contact your local Engineering For Kids to learn more!
Find Your Locations
Find Your Local Engineering For Kids