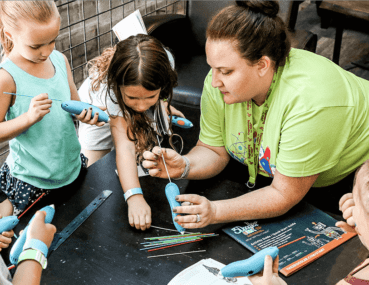 After school programs aren't just for occupying your child's time before dinner — though, admittedly, they certainly do a great job at keeping kids entertained!
Turns out they can actually be a rather enriching and rewarding experience for your child, both now and in the future, provided you find the right after school program.
Do we have your attention yet? Good! Here are five ways that enrolling your child in a high-quality after school program, like Engineering For Kids, can help them thrive:
1. Improves interpersonal skills
After school programs allow children to expand their social circles, meet and interact with kids outside of their classes, and make new friends. Being exposed to a different social setting can help children meet more like-minded peers, become better communicators, and be comfortable outside of their comfort zone. This helps them to be able to adjust to new situations easily.
2. Provides academic help
A good after school program can assist children with homework and help to reinforce the skills and topics learned during the school day. This assures homework is done by the time they get home and helps kids keep the learning going with fun, academic activities — just like the ones we do at Engineering For Kids!
After school programs provide an educational and social setting, without the added pressure of the classroom. By helping children feel more comfortable and opening them up to new experiences and new people, these programs can help their overall confidence increase. Confident kids are smiling kids and we love to see smiling faces at Engineering For Kids!
4. Provides supervision
With a good after school program, you'll never have to worry about your child's safety outside the classroom. Worry not, parents! Your children will be well-cared for and looked after in the name of educational fun! That way, the learning can continue long after the school day is over.
5. Builds team players
Among other things, after school programs help mold kids into better team players. Their collaborative, fun activities encourage kids to bond with one another and work together. In addition to meeting new friends, children learn leadership skills and how to better work as a part of a team, a skill that is crucial to their future career success.
As you can see, after school programs have many fantastic benefits. If you're interested in learning about the different after school programs that Engineering For Kids has to offer, feel free to check them out here!
Find Your Locations
Find Your Local Engineering For Kids