As a team that's been offering classes and workshops to schools and parents for over 10 years, Engineering For Kids is committed to making sure that students don't miss the chance to explore the subjects of science, technology, engineering, and math. We've made it our mission to ensure that students receive the hands-on, imaginative experiences they need to open their minds to new skills and bright futures. In addition to learning science, technology, engineering, and math in a fun and engaging environment, we help our engineers-in-training develop problem-solving skills and discover how the world around them works. These skills are extremely beneficial for students of all skill levels, and our curriculum adapts to present age-appropriate challenges that grow with your child each year.
Junior Engineers
Pre-K to 2nd Grade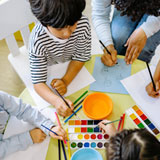 Our Junior Engineering classes build off young children's natural curiosity by introducing them to the uses of technology in their daily lives. Our lessons help them explore through interactive projects, engaging literature, and fun demonstrations. The self-discovery and teamwork students experience in our classes builds confidence, sets an important framework for their future education, and helps them make sense of the theory they learn in school for years to come.
Apprentice Engineers
3rd to 5th Grade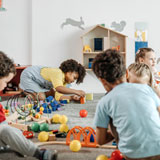 Apprentice Engineers spend each class designing, building, testing, and re-engineering their own solutions to engineering challenges in an engaging, safe, hands-on environment. By integrating the Engineering Design Process into both individual and team lessons, students learn that falling short of goals is normal, and that improvement is an essential part of every project. Following this process of continual improvement encourages Apprentice Engineers to step outside of their comfort zones and try new things with confidence.
Masters Engineers
6th to 8th Grade
Master Engineers are discovering their place in the world and looking to have an impact. While providing opportunities to explore possible career options in a fun, low-pressure environment, these classes empower students to think outside the box and invent their own solutions for real-world problems. Students practice problem-solving and collaboration skills as they team up with new friends who share their interests and see first-hand how the math and science they learn in school applies to modern technology.
Find Your Locations
Find Your Local Engineering For Kids