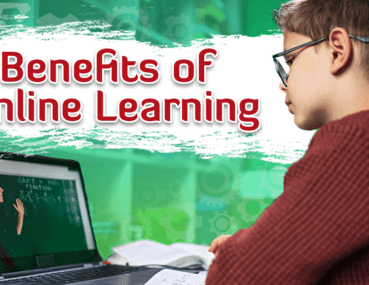 4 Advantages of Online Learning
While we continue to navigate the new normal of spending more time at home, children and teens are also navigating the new normal of online learning.
The good news is, remote learning can prepare kids for their future! In fact, many college classes are held online, and depending on their career choice, students may eventually find themselves working remotely or part of a virtual team for their employer.
Learning to master the art of "digital learning" is truly a valuable skill to obtain at a young age — but if you're still not convinced, here are some other advantages of moving education to virtual classrooms.
1. Caters to Different Learning Styles
As you may recall from your own school years, not every student learns the same way. Some may be more visual learners while others are auditory learners. Others learn by doing and some learn by reading and writing. Online programs still offer all of the above, so students can use the methods that work best for their unique needs.
2. Students Can Learn at their Own Pace
While some children may naturally find their own rhythm when it comes to learning new information, others may need to take their time to better understand a concept before they move on. With online classes, students are able to spend an extended period of time on a subject, split up a lesson, or blaze full speed ahead!
Related: Best Laptops for Elementary and Middle School Distance Learning
3. Helps to Refine Critical Thinking Skills
While critical thinking is a part of any education, online learning helps students think critically in different ways. Virtual classrooms present unique challenges, like with technology and information. As students navigate through online learning, they'll think critically to overcome obstacles that may stand in their way.
4. Develops Technical Skills
It's time to embrace technology — one of our favorite subjects here at Engineering For Kids! This new foray into online learning can help students develop technical skillsets, like troubleshooting program issues and utilizing key digital tools. Whether it's a video conferencing program, so students can meet face-to-face with their teachers, or utilizing a project management application to keep track of assignments — these tools can help your student throughout the rest of their lives.
Here's How Engineering For Kids Can Help!
We know that online learning may be new for your kids and we're here to help. We've rounded up a collection of at-home learning resources and are offering virtual programs at many of our locations. With the use of safe and secure video conferencing technology, we can keep your child engaged and educated, while also helping to develop technical and critical thinking skills!
You can be confident in your child's education with our online program knowing that all of our lessons meet National and State Standards — not mention they are Cognia Certified and STEM.org Accredited.
Contact your local EFK to learn more about what programs are available and follow us on Facebook for at-home STEM activities you can do with your family!
Find Your Locations
Find Your Local Engineering For Kids