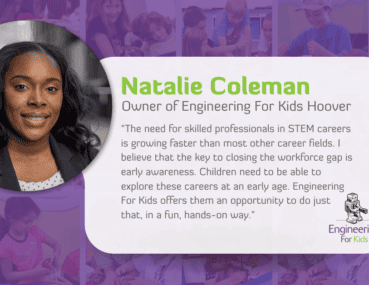 Engineering For Kids aims to bring science, technology, engineering, and math education to students across the globe. Since its beginning, the program has reached over one million students internationally and continues to expand in the United States. Through camps, classes, parties, events and online programs, the goal is to inspire the next generation of students to become interested in a STEM field early on.
One of the newest locations has opened in Hoover, Alabama and we've had the chance to interview the owner, Natalie Coleman. Natalie has a Bachelor and Master of Science degree in Biology with a Chemistry minor and is most excited about the Chemical Engineering and Technology curriculum EFK has to offer. Natalie has a passion for working with children of all ages and has worked in education for the past 14 years.
"I started teaching in higher education and decided to work in K-12 to help students align their interests with their career goals. During the summer, I worked as a summer camp director. I have always had a passion for STEM education."
Natalie noticed a need in her community for more STEM education which brought her to purchase an Engineering For Kids franchise.
"For the past 7 years, I have been working in career and technical education and workforce development. The need for skilled professionals in STEM careers is growing faster than most other career fields. I believe that the key to closing the workforce gap is early awareness. Children need to be able to explore these careers at an early age. Engineering For Kids offers them an opportunity to do just that, in a fun, hands-on way."
Get to know Natalie:
What is the best piece of advice you'd give to your younger self?
I would tell myself, "do not fear to step into the unknown. For where there is risk, there is also reward." Lori Hard. I have been very hesitant about showcasing my gifts and talents. I work very well in the background to support others and their initiatives, but it is time to be supportive of my own.
What's your favorite quote?
"You see things; and you say, 'Why?' But I dream things that never were; and I say 'Why not?'" – George Bernard Shaw
How do you like to spend your free time?
I enjoy spending time with my family in my free time. We love to go for walks and travel to new places.
What are you most looking forward to in your business?
I am looking forward to inspiring children all over the Birmingham metro area to pursue careers in STEM and making Engineering For Kids a household name.
You can learn more about programs offered by Engineering For Kids of Hoover here. If you think you could be the next Engineering For Kids franchise partner, learn more about our franchise opportunity here.
Find Your Locations
Find Your Local Engineering For Kids