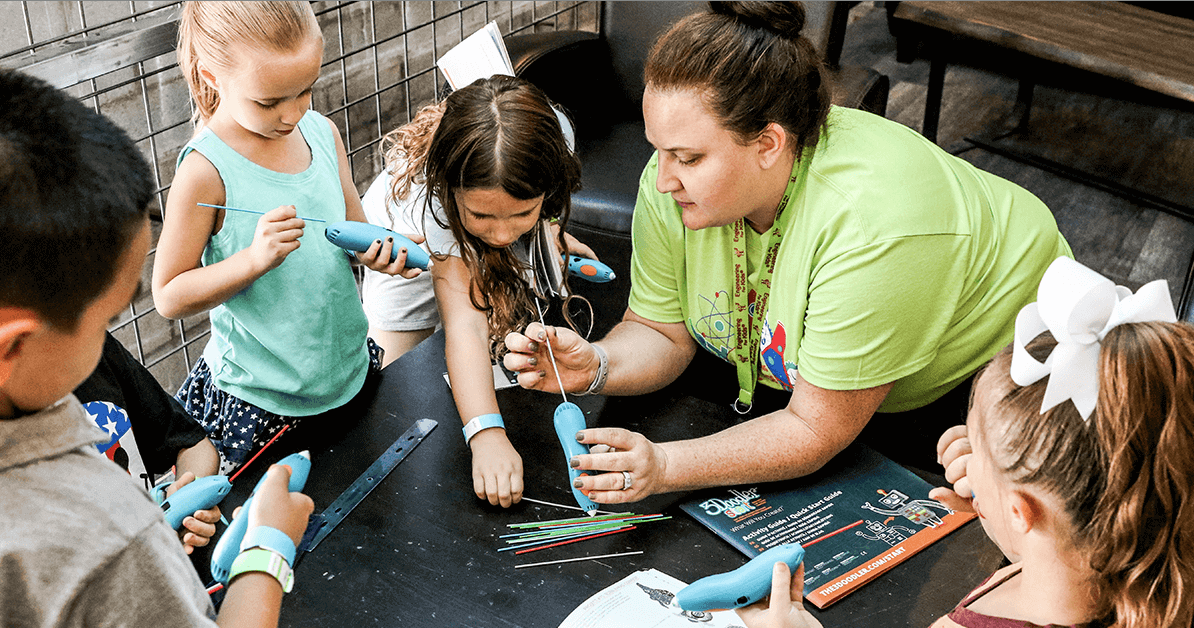 With things slowly returning to normal, it's time for parents to help their children bounce back this summer and tackle the learning loss caused by all the time off and home-schooling over the past year. Of course, every parent deserves a round of applause for adding 'teacher' to their parenting résumé this year. However, while all that homeschooling has played a role in supplementing the education children have missed, it doesn't quite compare to the benefits of learning in a fun structured environment with peers. So, with summer just around the corner, what better time for children to explore STEM a little bit further by getting outside and doing some fun, hands-on educational activities at an Engineering For Kids summer camp?
At Engineering For Kids, we help kids learn all about science, technology, engineering, and math in fun and interactive ways that don't feel like learning at all. Our summer camps supplement children's existing school curriculums and help children build upon what they already know to solidify their knowledge in a fun and engaging environment. Whether it's through virtual or in-person programs, immersive learning experiences are designed to help kids ask questions, solve problems, and truly understand the process of how they got to their answer – all while having loads of fun. There really is something for everyone at Engineering For Kids, so we're sure you'll find the perfect STEM summer camp for your child.
Interactive Engineering Camps
These camps are designed to help children with a passion for engineering boost their confidence, increase their teamwork skills, and reduce their academic anxiety. All things that can help our young engineers become successful in their future educational and career-related endeavors. These hands-on engineering camps specialize in aerospace, chemical, civil, electrical, environmental, forensics, industrial, marine, mechanical, and mechatronics engineering – giving children a range of options to pursue the course that's right for them. During camp, our experienced team will guide the young engineers in the right direction to discover why and how things happen.
Technology and Coding Camps
Technology is evolving every day, and companies in every career field are constantly searching for employees that have technological skills. Engineering For Kids allows children to develop these skills through our engaging Technology and Coding camps. Our cutting-edge camps offer a range of 3D printing, 3D CAD modeling, electronic game design and coding, hardware, and software engineering programs. These programs help children improve their problem-solving skills, social skills, and focus, helping expand their horizons and future career prospects.
Robotics Camps
Our Robotics camps and classes allow students to dive deep into the world of robotics and explore how computer programming and robot design can solve problems big and small. Not only does this program help students to establish science, technology, engineering, and math concepts, it also works to build on students' team-building skills as they complete fun challenges. These collaborative skills are essential for student success, no matter what subject they choose to pursue in the future. Whether you have a son who's in preschool or a daughter that's going on eleven years old, Engineering For Kids offers robotics classes children as young as pre-kindergartners can enjoy. So, no matter their age, this course is perfect for helping expand your child's creative mind.
Urban Innovations with Minecraft Camps
These camps are ideal for kids who love the popular Minecraft video game. For those who don't know, Minecraft is more than just a game. It's also a motivating and engaging tool that allows for limitless creativity. The Urban Innovations with Minecraft programs allow kids to design, create, and make their very own city come alive. In this series of camps, kids will explore various themes focused on scientific, sustainable, innovative, and futuristic city planning and design. Kids can immerse themselves in Minecraft while applying the Engineering For Kids design process to create a model of their own futuristic, sustainable city. On the last day, students will learn how to pitch their ideas and launch their designs to a larger audience to participate in an EFK global design competition!
Esports League Camps
These camps are designed so that students of any and every skill level will have fun, compete against each other, and learn the educational and STEM aspects behind gaming. Our Esports League camps help children learn how everything in-game relates to the real world through physics, aerodynamics, maths, and more. Esports has also become increasingly popular with colleges and universities. This camp is perfect for aspiring esports athletes or children looking to work in the tech industry. With opportunities to develop a wide range of skills, bolster universities and college applications and increase the chances of achieving a scholarship to one of the ever-growing esports university programs, there has been no better time to get your child involved!
The importance of STEM education for children
STEM education is a critical component in helping children combat the learning loss experienced over the summer holidays and from the homeschooling of the past year. At Engineering For Kids, our summer camps will enable your child to develop a range of valuable life skills that will not only help them bounce back this summer, but also help them in their future careers. Skills are developed through our challenging STEM.org Accredited and Cognia Certified programs – meaning you can trust that the knowledge learned in Engineering For Kids camps will help provide your child a lifelong foundation in STEM fields and help them retain information learned during the school year.
So, as summer gets closer, there is no doubt kids will be rethinking or reimagining what their vacations will look like. To make sure they get the most out of the time, why not get them involved in a fun STEM activity summer camp by finding your closest Engineering For Kids location?
Find Your Locations
Find Your Local Engineering For Kids