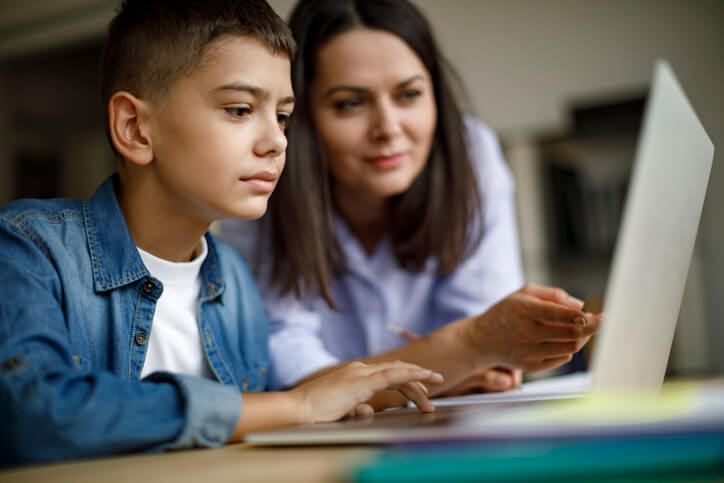 Are you in the market for a laptop for virtual learning for your elementary or middle school child? We've rounded up some of the best laptops on Amazon for students ready to take on virtual schooling and guess what, they're all under $400!
Before choosing a laptop, consider some of the following things: What will your child be using the laptop for? Do you need a lot of space to save files? Will they be running programs that require a powerful device?
Do your kids drop items often? If so, durability might want to be a top priority for you. If your child will be attending live online classes (like ours!), you'll want the device to have video conferencing capabilities with a build in microphone, so they are able to communicate with their teacher and other students if required. You will also probably want something that includes the ability to set parental controls or restrict certain features for safety purposes.
On top of schoolwork, if your child likes to play video games or stream videos in their downtime, you may want to look at laptops with a little more power and a long battery life so they do not have to stay plugged in all the time.
We've rounded up a handful of our favorite laptops for kids:
4.4 out of 5 Stars | 251 ratings
$339.99
The HP Stream is a light, thin laptop perfect for students to use for their schoolwork. It comes with Office 365 for a year, so you get access to Microsoft Word, PowerPoint, & more. It has a battery life of up to 14 hours and 15 minutes and comes in a few cool colors!
Reviewers love this laptop because it has worked great for their kids and it is a good price. "This is a great first laptop for my children. We got it so that they could do their school work on it. I have no complaints about it. It came in on time, and works perfectly. It was at a price point for what we needed that I was not worried if they kids destroy it by the end of the year."
This model has a touchscreen, but if you do not need that feature this model is a non-touch screen. You can also find this laptop with an 11-inch HD screen on Amazon too.
Related: 6 STEM Toys That Make Learning Fun
4.4 out of 5 Stars | 1,538 ratings
$309.99
Chromebooks are commonly used by schools because they're fairly inexpensive and allow you to limit downloading third party applications This laptop has four display modes to choose from and spins on a 360-degree hinge that lets you rotate it to any angle for whatever you are doing! There's display mode, tent mode, and tablet mode so no matter where you are, your laptop can accommodate.
This Chromebook also have a feature called FamilyLink, which allows you to supervise your children on their devices.
Reviewers say "We purchased this computer for my 2nd, 4th and 6th grader to share because so much homework now HAS to be done on a computer. For the ~$200 we spent, I couldn't be happier." Make sure to read all specifications about the laptops compatibility with other devices you may already own, like your printer. Some Chromebook models lack certain functionalities.
4.2 out of 5 stars | 895 ratings
$394.00
The Microsoft Surface has always been a great device – but might not be in the price range you want to spend on a laptop for your middle schooler who may spill something on it or drop it. The new Microsoft Surface Go is a lesser expensive version perfect for students or anyone looking for a device not requiring much processing power.
The laptop itself is only 1.3 lbs, it easily fits in your bag, and has tons of unplugged power. In addition to it being super portable, it is also one of the best devices for drawing. You can purchase a Microsoft Surface Pen that allows you to digitally draw or paint right on your device – very realistically!
The device does come in S mode – which prevents your from adding apps not sold in the Windows store, but that might not matter to many people. You can always switch to Windows 10 if you find you do not like S mode.
Related: The Benefits of Online Learning
4.2 out of 5 stars | 144 ratings
$298.99
Another Chromebook made our list. One parent who purchased this laptop for online school said "My 9 Year Old Keeps Saying – I LOVE THIS SO MUCH & THE SCREEN IS HUGE!"
This Asus Chromebook comes with a 15.6 inch HD Anti-Glare display, extra storage with Google Drive with offline access, and FamilyLink for extra parental controls. It would be a great addition to your supply list this year for Zoom meetings and school work.
With so many device options out there now, you can start narrowing your choices down by determining what the laptop will be used for most. We hope this list helps with your search!
Disclosure: This post contains affiliate links and we may receive commissions if you visit a link and buy something through our recommendations. Purchasing via an affiliate link does not cost you any extra, and we only recommend products that we believe are best for inspiring the next generation of engineers!
Find Your Locations
Find Your Local Engineering For Kids