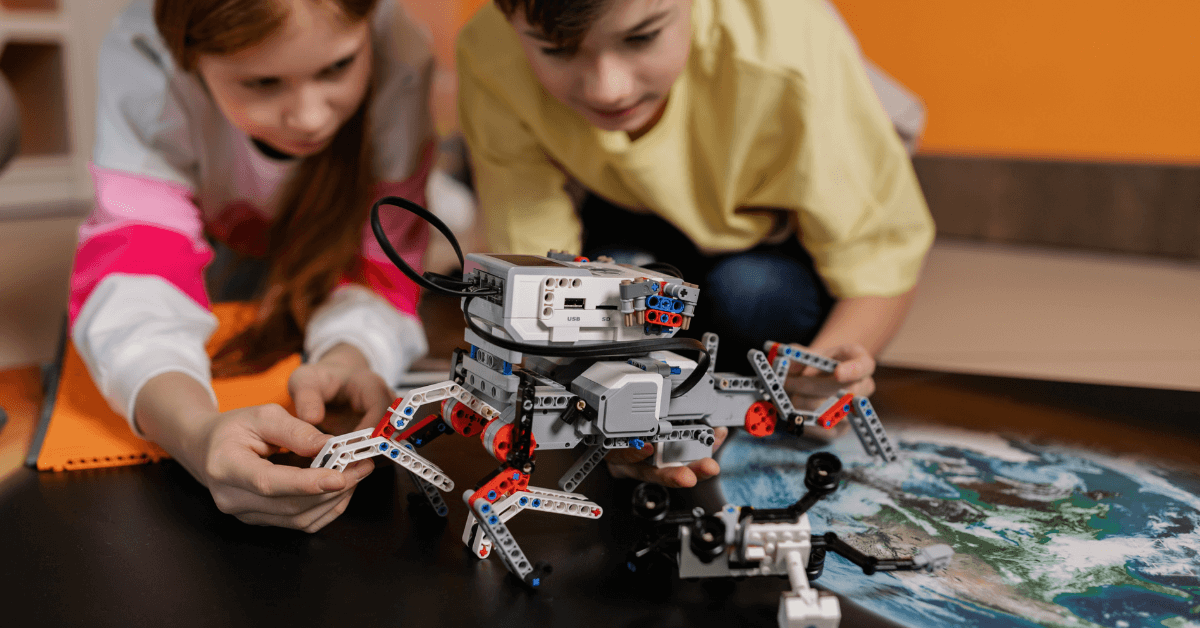 You might be curious as to what exactly students do in robotic camps and classes. In your mind, you might be thinking they are building robots like little Einsteins.
Well…
You're completely right.
The coolest thing about robotics camps and classes is that students will learn how to build a fully functioning robot on their own. However, that's not the only thing they learn how to do. Here is a list of what students learn in robotic camps and classes.
1. Students learn to build their own robots!
One of the biggest attractions for students who want to go to robotic camps or attend robotic classes is because they learn how to build their own robots from scratch. They are able to pick up the skills, knowledge and techniques required to innovate robots that have their own specific uses and functionalities.
By sending your children to robotics camp or letting them attend classes, you are nurturing their innovative and genius nature at a young age. The more they learn about making robots and practice the craft, they might develop a passion for it, continue to improve on their skills, and ultimately make a career out of it.
As inventors, engineers and programming experts will continuously grow in demand as technology advances, students who are passionate and excel in robotics at an early age will have an incredibly huge advantage to build a successful future.
2. Students learn to code.
The fundamental component of robotics is coding. For a robot to work, it must have a functioning code written, like a brain that tells it to move, and do other things. Thus, in robotics camp and classes, aside from learning how to build the robot's body from components, students will also learn how to program the robot's brain through coding.
Learning to code is an invaluable skill to have for the future as various industries and society as a whole continue to digitize. As we enter an era of digitization, where businesses exist more online than they do offline, and social media is the main pillar of social infrastructure, the demand for coders who can incorporate and build will exponentially increase as well.
Thus, as students become more familiar with building robots, they will also inadvertently master the fundamentals of coding, and start learning more advanced programming languages as they start building more intricate robots. As coding consists of universal languages, students who are able to build complicated robots will have a much easier time transitioning and learning how to code and build various other programs.
3. Students improve on their knowledge of science and maths.
The fundamentals of robotics lie in science and maths. Building a robot requires a deep understanding of both of these subjects. To build a robot, measurements for parts have to be accurate. The length and weight of each component plays a big factor in the functionality of the robot. Likewise, the way the robot moves and theorizes the concept of utility requires knowledge of physics and logic. If the calculations are wrong for either the coding, or the weight distribution of the robot, even if it is just a small miscalculation, it will not work as intended.
When students are able to build a fully functioning robot, what goes unseen behind the curtains is umpteen hours and weeks of constant calculations, stress testing, theorizing, and equating. You could say a working robot is a product of many hours of science and maths finally done right. Not only does it mean the students have been doing more than their homework syllabus would have ever given them, it builds their strength, perseverance and passion for the craft.
4. Students acquire social skills and learn how to collaboratively work.
When students attend robotics camp and classes, they will not start building robots as a solo project right away. In fact, building robots alone is incredibly tedious and would take even an adult months to complete. Thus, students are paired into small groups of 2-6 students who work together and collaborate to make a single awesome robot.
This collaborative work would still take weeks of trial and error to finally show fruition. The level of dedication required is no less than what adults are required to do in their professional jobs. This is a situation where students are not able to experience usually in the traditional classrooms, but will be constantly experiencing in robotics camp.
By encouraging students to work collaboratively on difficult projects at a young age, it builds their soft skills such as social skills and leadership from the get-go. This is incredibly valuable for them, especially if they nurture these skills until their adulthood, and it bleeds into every aspect of their life.
Robotics camp and classes open many future doors of opportunity for students.
As students learn to build robots, they also learn how to code, grasp a solid foundation of math and science, and also build collaborative and leadership skills. These are all the necessary ingredients for a highly successful future career, especially if they want to pursue STEM. If you're interested in sending your child to a robotics camp or class, or bringing a robotics program to your school, find your closest Engineering For Kids location!
Find Your Locations
Find Your Local Engineering For Kids