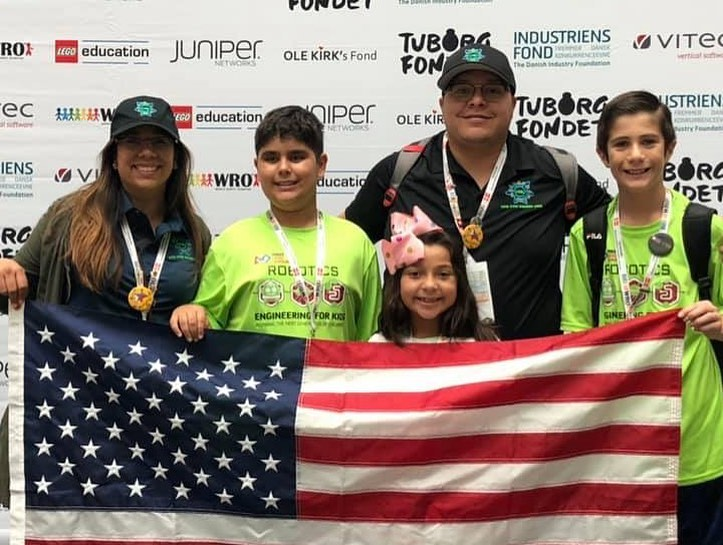 In case you missed it, students from our very own Engineering For Kids of Inland Empire North had the exciting opportunity to travel to Aarhus, Denmark to compete in the World Robot Olympiad (WRO) Friendship Invitational this summer!
Representing EFK were four teams in either the elementary or junior age group category:
LEGO Panthers from Randall Pepper Elementary School — Regular Elementary

C0D3 Team from Wayne Ruble Middle School — Regular Junior

Tranisitonal Taxis from EFK Upland — Regular Elementary

FS-Gamebatallion from EFK Upland — Regular Junior
Upon arrival, the students had the opportunity to visit the original LEGOLAND in Billund. Then on day two of the trip, were able to build and code their robots and enjoy a robotics-themed scavenger hunt at a local amusement park. Thus leaving the final two days to the competition and awards ceremony.
The teams, who won in regional competition (before making their way to Denmark), also proved triumphant overseas! The LEGO Panthers received the International Friendship Award for their slogan "3 Countries, 3 Teams, 1 Friendship," created in collaboration with German and Nigerian students. And the Tranisitonal Taxis placed in the top 10 of 42 teams in their category!
We are so proud of all the students and teachers for this amazing achievement!
About the World Robot Olympiad
The WRO Competition was founded in 2004 with the goal of "bringing together young people all over the world to develop their creativity, design and problem-solving skills through challenging and educational robot competitions and activities." And what started in only a few Asian countries has since expanded to over 65 countries across the continents!
Find Your Locations
Find Your Local Engineering For Kids