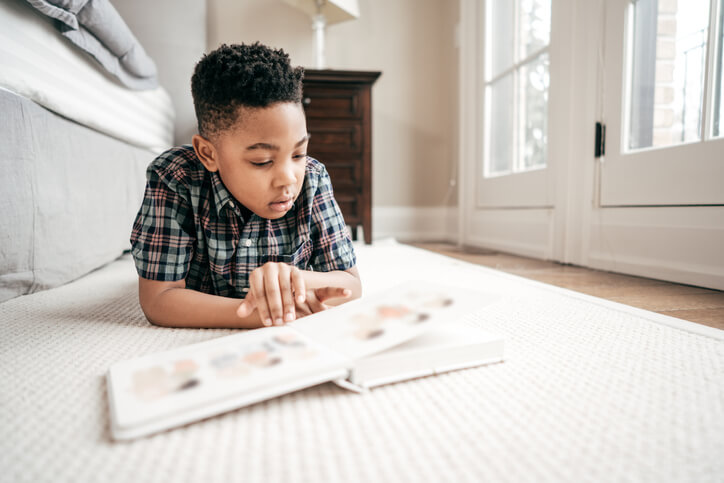 Children are curious explorers of the world — always using their imaginations and asking questions. As they grow, they may take an interest in the way things work or look to solve problems they encounter. This innocent curiosity can blossom into some incredible things if given the proper nurture!
Nurturing your young learner's interest in STEM is easier than ever thanks to the influx of toys, games, and books created just for children. Whether your child is fascinated by the inventors of the past or sees themselves in the story of a fictional innovator, books are a great way to inspire your child's creativity and spark their curiosity for innovation.
6 Children's Inventors Books
1. The Most Magnificent Thing!
Award-winning author and illustrator Ashley Spires has created this picture book featuring an unnamed girl and her best friend, who happens to be a dog. A tale of trial and error, this read portrays the sometimes-frustrating process of problem-solving and shows how a new perspective and perseverance can help you reach your goal. Grade Level: Pre-K-2
2. Mr. Ferris and His Wheel
This illustrated picture book biography sheds light on how the American inventor George Ferris defied gravity and seemingly impossible odds to invent the world's most iconic attraction for the 1893 Chicago World's Fair, the Ferris wheel! Grade Level: K-3
3. Have You Thanked an Inventor Today?
Selected by Microsoft as a book that inspires STEM and also received a 5 Star Rating from Reader's Favorite, this fun read brings you on a journey into the often forgotten contributions of African-American inventors. Kids will learn that some things they use (or see) every day — hairbrush, lunch box, street lights, or a Super Soaker water gun — were created by African-American men and women. And while African-American inventors may not have invented some commonly used items, like the refrigerator or lock, they did improve the operations of them! Grade Level: K-5
4. The Boy Who Invented TV: The Story of Philo Farnsworth
This inspiring true story of boy genius Philo Farnsworth explores his early interest in machines and electricity — and how this interest eventually leads him to invent something we all use every day, the television! Grade Level: 1-4
5. Mistakes That Worked: 40 Familiar Inventions & How They Came to Be
Did you know potato chips were first made by a chef who was angry when a customer complained that his fried potatoes weren't thin enough? Piggy banks, silly putty, and frisbees also were invented on accident. Informative and entertaining, learn about all the mistakes that changed the world! Grade Level: 3-7
6. The Kid Who Invented the Popsicle And Other Surprising Stories about Inventions
Would you believe Mickey Mouse started out as a rabbit? Or that the game of badminton originated as a fortune-telling ritual? From a-z, you'll find fun facts about some commonly used inventions — and how they surprisingly came to be! Grade Level: 3-7
7. The Boy Who Harnessed the Wind: Young Readers Edition
This gripping memoir, retold for a younger audience, shows how one child's brilliant idea could change his family's life forever. After a drought struck William Kamkwamba's small village in Malawi, his family's crops were destroyed, leaving them with nothing to eat. But he had an idea — William taught himself how to engineer a windmill to bring electricity to his family's home and draw water to irrigate the fields. Grade Level: 4-7
If you've got a young inventor on your hands, they'll fit right in here at Engineering For Kids! At EFK, we've made it our mission to help young learners explore STEM subjects in a fun and educational way. Contact your local Engineering For Kids today to learn more about the programs we offer!
Disclosure: This post contains affiliate links and we may receive commissions if you visit a link and buy something through our recommendations. Purchasing via an affiliate link does not cost you any extra, and we only recommend products that we believe are best for inspiring the next generation of engineers!
Find Your Locations
Find Your Local Engineering For Kids