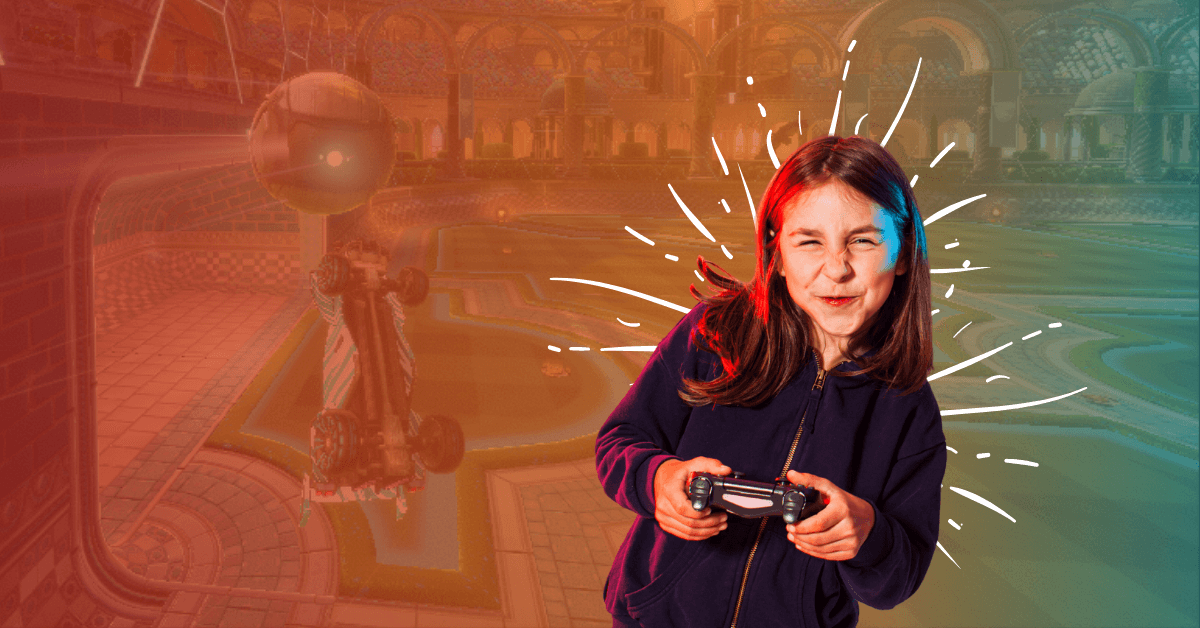 To the delight of video game lovers everywhere, Engineering For Kids is offering children a boost this summer with our Rocket League esports camps!
Rocket League is a hybrid of arcade-style soccer and vehicular mayhem, allowing students to customize their cars, hit the field, and compete against each other in a fun learning environment. During the camps, students will learn all the fundamentals of the exciting and competitive esports game.
But what is esports, and how does it link to STEM education? For people who aren't avid gamers, esports is a form of sport competition using video games and often consists of organized, multiplayer video game competitions. It's clear how esports represent the Technology in STEM thanks to the significant technology inherent in the programmes. But beyond that, the mechanics and rules of the games also provide tremendous learning content in the Science side of STEM. Esports provide an incredible hands-on experience around concepts of physics such as propulsion, gravity, momentum, elastic collisions and so on. For kids to succeed in esports, they must understand and excel at these scientific elements.
However, while the surface connection between esports and STEM education is easy to see, the only real way for esports to be beneficial for children's learning is by providing it in a well-structured, pro-social environment that can facilitate sound educational outcomes.
Why choose esports?
Most parents are probably thinking – and rightly so, 'Why esports? How can this possibly benefit my child?' The answer is that the opportunities for students to develop themselves and pursue further education through esports is tremendous!
According to Newzoo, the world's most trusted and quoted source for games market insights and analytics, there were 2.69 billion gamers in the world by the end of 2020! This number is getting bigger by the day, with an average of 5.6% year-on-year increase1. Because of this growth, colleges are jumping on board the global Esports train. In fact, whilst only seven US colleges and universities had varsity esports programs in July of 2016, since then, a rapidly growing number of institutions have launched varsity programming, with a current count of 186 institutions and an ever-increasing number of schools exploring esports.2
Exciting, right? But there's more. According to the National Association of Collegiate Esports, the average esports scholarship student receives $4,800 in tuition awards a year—but some can receive up to half off tuition!2 This just goes to show the potential benefits of taking part in esports can have on a child's educational journey.
The skills developed through esports:
The potential to learn valuable life skills is huge while taking part in esports. Esports can help kids develop a range of skills from team building to problem-solving, regularly having to think on their feet.
Traditionally, maths and science are considered the more 'boring' subjects to learn at school. Not anymore. Our esports camps help children learn how everything in-game relates to the real world through physics, aerodynamics, maths, and more. So, here are just some of the skills students, of any ability, can develop through an esports camp.
1. Teamwork and communication
Esports camps help students learn to pursue mutual goals, allocate shared resources, negotiate task ownership, and collaborate to solve problems – everything you need when working in a team.
2. Problem-Solving
Students will develop problem-solving skills under pressure and work collaboratively with others. They strategize, make decisions, pay attention to detail, and focus on the game's flow.
3.Social skills
For many kids, social skills don't come naturally. Those with limited social experience are particularly prone to skill deficits. Taking part in the esports camps provides a safe environment for kids to learn and practice these skills.
4. Self-confidence
Achieving and excelling at competitive gaming in an organized learning environment can do wonders for students who love gaming but may not show any particular interest in traditional curriculum sports and activities. By offering esports as an alternative, students are given a choice to take up something they genuinely enjoy, which improves self-confidence in their own abilities.
5. Strategic thinking and planning
Esports require students to set goals, assess the competition and consider their individual strengths and weaknesses. By joining an Engineering For Kids camp, students learn to establish tactics, put together game plans and adjust execution as needed.
Future careers for esports enthusiasts
Taking part in esports is the first step to opening up the possibilities to pursue a growing level of in-demand future careers in coding and engineering. Most people think the only career in esports is professional gaming. But in reality, there are jobs in management, operations, sales, event planning, coaching, travel, and even social media marketing. As well as these more traditional jobs, there's also been an emergence of untypical and new business models too. So, don't be afraid to get your kids out there. By taking part in these kinds of STEM activities early in a great organized learning environment, children can get ahead of the curve in pursuing their dream jobs.
If becoming an esports athlete or working in the tech industry is your child's dream, why not go for it? With opportunities to develop a wide range of skills, bolster universities and college applications and increase the chances of achieving a scholarship to one of the ever-growing esports university programs, there has been no better time to get your child involved!
1Newzoo, 2020, The World's 2.7 Billion Gamers Will Spend $159.3 Billion on Games in 2020; The Market Will Surpass $200 Billion by 2023
2National Association of Collegiate Esports, 2021
Find Your Locations
Find Your Local Engineering For Kids