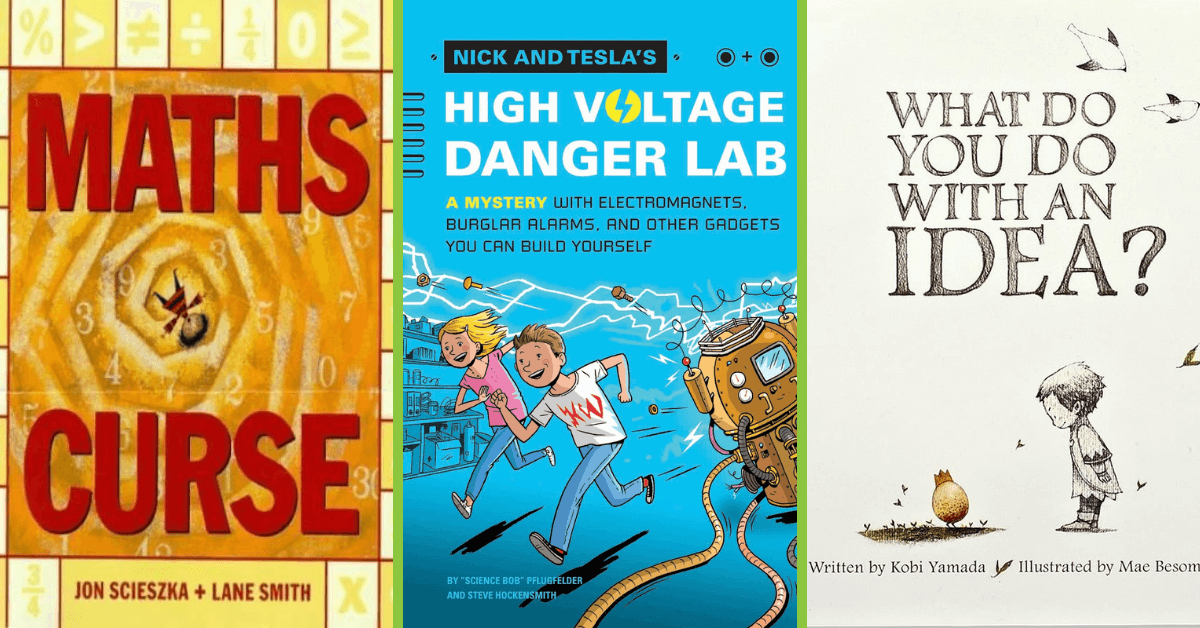 The importance of STEM (science, technology, engineering, and maths) subjects, and their benefits to developing minds, are well documented. The re-imagining of how these subjects are delivered in the classroom has energized both the curriculum and kids' interest in these topics. Here we've put together eight of the best STEM books to captivate and provoke the curiosity of young minds.
1. What to Do with A Box – by Jane Yolen and Chris Sheban
Perfect for reading aloud or solo reading, this book is the epitome of the STEM subject ethos: offering a fun way to promote creative thinking and problem-solving skills, it contains a plethora of ideas for projects and suggestions to engage young minds. This fun-filled book is great for use both in the classroom and at home for family makes.
2. Maths Curse – by Jon Sciesczka, illustrated by Lane Smith
Fusing storytelling with math, this inventive picture book is a fun way to get kids problem-solving. Andrew Penley, a writer at Essayroo and Custom Essay, describes the book as, 'a fantastically entertaining way for children to get to grips with a variety of math problems, including probability, statistics, and measurement.'
3. Nick and Tesla's High Voltage Danger Lab – by 'Science Bob' Pflugfelder and Steve Hockensmith
An interactive guide to science and electronics, this book contains problems to solve and the blueprints of projects to build. The book tells the story of the adventures of twins Nick and Tesla, and the inventions they make along the way. As well as helping come up with solutions, readers can also have a go at making the twins' devices, such as a soda-powered vehicle!
4. After the Fall – by Dan Santat
This beautiful book is designed to help children overcome their fears as they follow Humpty in his efforts to climb back up the wall and create something once at the top. The follow-up STEM challenges, Egg Drop and Paper Airplanes are great additions to the story and encourage further analytical and problem-solving thought.
5. Your Fantastic, Elastic Brain – by JoAnn Deak
Perfect for early readers, this wonderfully illustrated book describes the anatomy of the brain and its functions. With engaging content and fascinating facts, this is a great introduction to the workings of the human body, as well as promoting resilience and the understanding of what drives our fears, and how making mistakes is key to learning.
6. Groundhog Weather School – by Joan Holub, illustrated by Kristin
An entertaining romp through the world of meteorology, 'Groundhog Weather School' encourages little learners to think and ask questions about weather patterns and seasons…as well as featuring some fun facts about groundhogs and the origins of Groundhog Day!
7. How a House is Built – by Gail Gibbons
This book is a great introduction to engineering, construction, craft, and design, all explained in accessible language and with accompanying illustrations. Each stage of house building is incorporated, from architectural design, to the role of plumbers and carpenters, and culminates in a family moving into the finished home.
'A wonderfully informative read that will help to promote an interest in some of the core STEM skills, 'How a House is Built,' covers everything from laying down the footings of the house though to landscaping,' says David White, STEM blogger at StateOfWriting and Paperfellows.
8. What Do You Do with an Idea? – by Kobi Yamara
This touching tale by Kobi Yamara provides endless opportunities for further exploration and follow-up projects, inspiring kids to come up with their own ideas and thinking about how these can be realized. The book also suggests how ideas, whether big or small, have the capacity to bring people together and even to make the world a better place.
9. Count on Me – by Miguel Tanco
Children will love this picture book that makes math irresistible fun! For the little girl in the story, math is a thing of beauty and wonder and helps her to appreciate the world around her. With wonderful illustrations throughout, 'Count on Me' offers a way of understanding math that is fresh and engaging.
10. Robotics – by Kathy Ceceri
Complete with instructions to build your own robot friends, this book is perfect for little engineers and scientists. Covering the prevalence of robots in our daily life – from automotive assembly to toys – 'Robotics' features twenty projects to complete, and encourages kids to think about their world and the place of the ever-developing field of electronics and robotics within it.
STEM For Lifelong Learning
STEM topics encourage children, both in the classroom and at home, to be curious about their world and to think about creative solutions to a variety of problems. These books are a great way to endorse kids' natural fascination with their world and engage them in interactive learning that is lifelong.
About the Author:
Lauren Groff is a STEM writer at UK Writings and Academized and an editor at Boom Essays. Lauren writes extensively about the education system.
Find Your Locations
Find Your Local Engineering For Kids