Hosting Action-Packed Enrichment Events!
Parties at Engineering For Kids of Dallas Fort Worth
Whether you're looking for a way to make your child's birthday truly special or you want to host a fun end-of-the-school-year party for his or her class, Engineering For Kids can help. Our educators have everything you need to throw the perfect party to celebrate a birthday or any occasion. We can entertain your guests with fun, hands-on activities that are sure to be a hit!
Why Choose Us for Your Next Party?
Hosting an enrichment-filled party is a great way for your child to:
Engage in social activities
Have a great time while developing new interests
Recognize the fun of learning
Build self-esteem
Feel free to call or fill out our online contact form and inquire about the packages and themes we have to offer!
Parties
DFW Area Party Form
Schedule us for your next Birthday Party or special event!
Schedule us for your next Corporate Event
Team Building Workshops
Corporate Picnic Activities
Take Our Daughters And Sons To Work Day Activities
Schedule us for your next Science and Art Night
Everyday Engineering Activities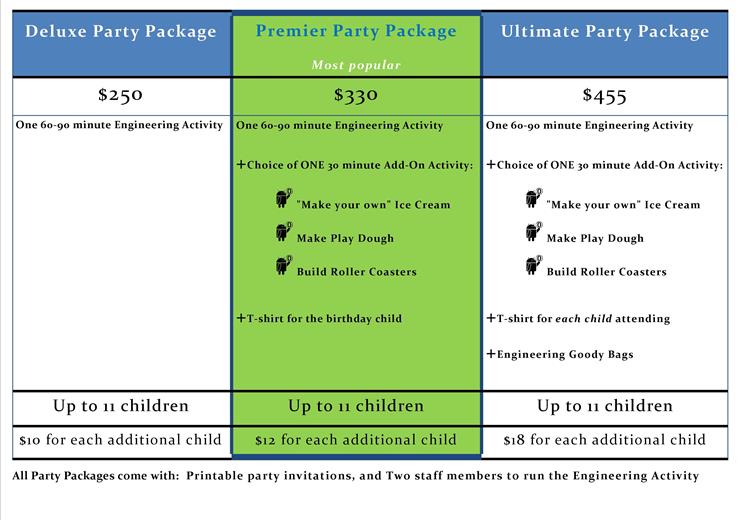 Find Your Locations
Find Your Local Engineering For Kids
Testimonials
Out of This World Reviews
Jo P.
It's fun and educational, it provides opportunities to kids and teaches them about life.
Sang K.
It's like a playground for their mind!
Kyleigh T.
Engineering For Kids classes are so fun and you get to learn new things about engineering each day.

Have Questions?
Contact Engineering For Kids