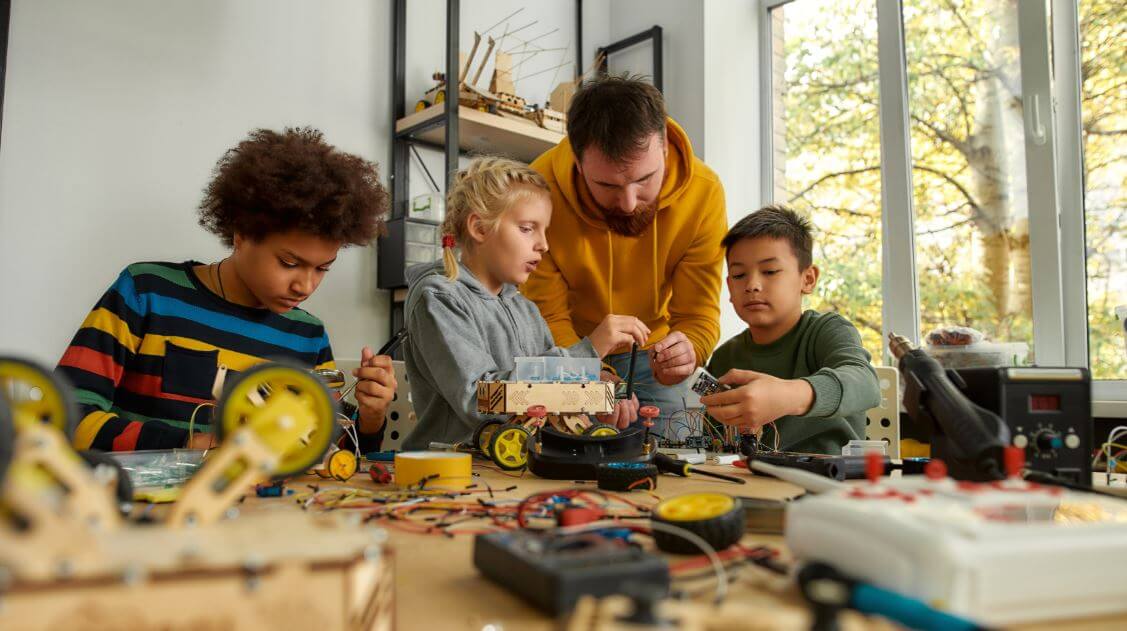 What is STEM and why are you suddenly hearing and seeing this buzz word everywhere?
STEM is an acronym for Science, Technology, Engineering, and Mathematics. These 4 disciplines are in our everyday lives if you just take a look around. Anywhere you look you are sure to see science, multiple uses of technology, engineering (in forms of airports, bridges, structures, etc.) and math practices. Not only does STEM refer to these fields, it really is a combination of how all of these fields work together and relate to the real world.
Benefits of STEM
In order for our children to become the future innovators and inventors of the world, we need to spark their interest in STEM. By making STEM programs fun and engaging, and prompting students to ask their own questions or draw their own conclusions, we can paint STEM fields in a new light. One that is exciting, and makes students not fearful of pursuing a passion for STEM. It's never too early to ignite a love for exploring and problem solving.
American University School of Education says "Early STEM education can promote ongoing academic success, and children who learn STEM concepts throughout their education are better prepared to meet increasingly technology-focused professional requirements."
Many STEM activities are hands-on and involve working with real-world problems. Introducing children to this can help develop a variety of skill sets they will need in the future – especially as technology only becomes even more prevalent in our lives. CADRE (Community for Advancing Discovery Research in Education) says early STEM exposure can "provide a critical foundation for learning."
STEM in Schools
Many school districts are forced to focus on literacy for state testing purposes. This can cause areas in STEM to get pushed to the side and only revisited if there is extra time to do so. Schools should be prioritizing STEM education just as much as they are literacy in order to introduce students to this content. Focusing on STEM has many benefits and teaches students a variety of skills that basic school subjects can not. The Edvocate says that STEM education fosters creativity, builds resilience, encourages teamwork, and teaches problem solving.
The Future is STEM
Programs like Engineering For Kids, are advocating more than ever for STEM opportunities to be given to students. This is because our world is becoming more and more reliant on systems and processes that involve STEM fields. Another need for the push in STEM is to get students interested in these constant changing and evolving areas that will account for many jobs in our future. According to TSAweb, jobs in STEM represent roughly 6.2 percent of jobs in the United States accounting for over 8 million jobs.
"93 out of 100 STEM occupations earn wages above the national average."
Some of these jobs include:
Data analyst.
Systems administrator
Mechanical engineer
Epidemiologist
Chemical engineer
Geologist
That's just to name a few. Others include computer related occupations, various fields of engineering, STEM related management positions, life and physical science technicians, drafters and mapping techs, and even STEM related sales.
STEM is Here to Stay
STEM is a field that is going to continue to be very prevalent in our lives. Whether it is at home, at school, or in extra curricular programs and summer camps like Engineering for Kids, it is crucial to introduce learners of all ages to STEM and its many benefits.
Related:
Find Your Locations
Find Your Local Engineering For Kids