The Fun, Educational Camp Your Child Is Bound to Enjoy!
2023 Camps at Engineering For Kids of Portland Metro
We're excited to bring our on-site summer camps to our partner site!
Please visit our registration page for more details:
2023 Summer Camps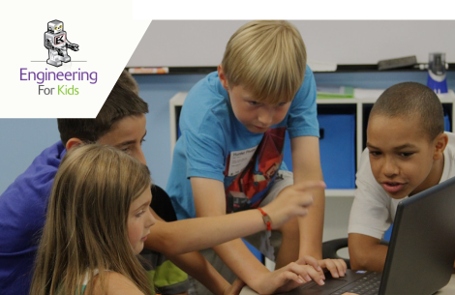 We have Junior Camps for our youngest engineers ages 4 – 7, Apprentice Camps for our experienced engineers ages 7 – 12. (Ages may vary by location.) Through both directed and open-ended projects, campers will explore everything from aerospace engineering to electronic game development.
Join us this summer to explore the fantastic world of engineering through our fun, hands-on summer camps!
We are working with partners all around the Portland area to bring our exciting Summer Camps to you! This year we will have camps at the following locations:
Catlin Gabel school
8825 SW Barnes Rd.
Portland OR 97225
French International School of Oregon
8500 NW Johnson St.,
Portland, OR 97229
Futian International School (Amiguitos Preschool Westside)
11675 SW Butner Rd,
Portland OR 97225
Happy Valley Park & Recreations
12915 SE King Rd.
Happy Valley, OR 97086
Hope Chinese Charter School
3500 SW 104th Ave,
Beaverton, OR 97005
Lake Oswego Park and Recreation Center
Multiple locations
Oregon Episcopal School
6300 SW Nicol Rd
We will have the following camps at OES:
July 10th-14th: LEGO EV3 Robotics: Robo Surgeons
July 24th-28th: LEGO EV3 Robotics: Envirobots
August 7th-11th: LEGO EV3 Robotics: Ocean Mission
Oregon Rhythmic Gymnastics & Dance Academy
6275 SW Hall Blvd, Beaverton, OR 97008
Please select camps offered by Engineering For Kids (click the camp title, the "instructors" section will show "Engineering For Kids")
Sherwood Center for the Arts
22689 SW Pine St.
Sherwood, OR 97140
West Linn Park and Recreation Center
Multiple locations
Xstream Learning Center
2029 NW Miller Rd
Portland OR 97229
03 International Badminton Club (2 Locations)
10058 SW Arctic Dr. Beaverton 97005
15140 SE 82nd Dr, Suite 260, Clackamas, OR 97015
At Engineering For Kids, our camps are carefully structured to provide your child with the enrichment he or she needs to grow and thrive. Our camps run in the spring, winter, and summer for your convenience. Our programs come in many varieties to accommodate your schedule, such as half-day camps, full-day camps, and holiday break camps. We also host camps on scheduled days off for reasons such as professional work days, teacher conference days, etc.
Just a few of these beneficial opportunities include:
Teamwork: Most of our camps schedule fun and engaging teamwork activities that teach children the value of investing in others.
Resilience and motivation: Our challenging programs help to teach kids how to keep trying. This also helps them feel accomplished when they succeed, which develops their will to learn.
Decision-making: Our uniquely structured activities help children establish and build upon great decision-making skills, which can help build confidence.
In addition, the wide range of activities and classes that we offer encourage children to try new things, which is a beneficial skill that can be applied in several instances throughout adulthood.
Find Your Locations
Find Your Local Engineering For Kids
Testimonials
Out of This World Reviews
Sang K.
It's like a playground for their mind!
Jo P.
It's fun and educational, it provides opportunities to kids and teaches them about life.
Kyleigh T.
Engineering For Kids classes are so fun and you get to learn new things about engineering each day.

Have Questions?
Contact Engineering For Kids