Hosting Action-Packed Enrichment Events!
Parties at Engineering For Kids of Calgary
Whether you're looking for a way to make your child's birthday truly special or you want to host a fun end-of-the-school-year party for his or her class, Engineering For Kids can help. Our educators have everything you need to throw the perfect party to celebrate a birthday or any occasion. We can entertain your guests with fun, hands-on activities that are sure to be a hit!
Why Choose Us for Your Next Party?
Hosting an enrichment-filled party is a great way for your child to:
Engage in social activities
Have a great time while developing new interests
Recognize the fun of learning
Build self-esteem
Feel free to call or fill out our online contact form and inquire about the packages and themes we have to offer!
Have a Blast with EFK's Birthday Parties!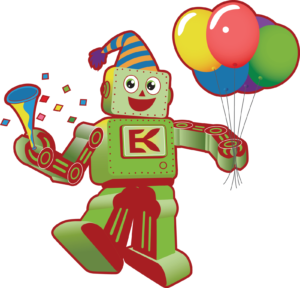 Engineering For Kids® parties will entertain your guests with hands-on engineering projects! Invite your friends for a fun, action packed party that is sure to thrill all who attend!
Create Your Perfect Engineering Themed Birthday Party With EFK Calgary!
Party Packages
Step 1: Choose your location.
Host a party in your home
Have EFK book a facility (Additional charge for facility rental)
Step 2: Choose your date/time and select a party theme and 60 minute activity from the options below.
LEGO® Robotics Gear Up– Party guests will build a robot and battle against their friends in SUMOBOTS.
Junior LEGO® Robotics – Kids build wild animals using Lego, sensors and motors. Hungry Alligator, Roaring Lion, Drumming Monkey and more!
Blimps – Kids will build and test their own airborne blimps, they explore the principles of buoyancy to create a neutrally buoyant blimp.
Bottle Rockets -Children will learn how simple air pressure can jettison a rocket more than one hundred feet in the air.
Marble Run – Kids use their creativity to design and build a track to guide their marble to the finish line.
Wind Turbine -Children will learn how to transform wind energy into electricity by building their own wind turbine.
Step 3: Choose your birthday party package from the options below.
Isaac Newton Party Package (60 min) $225
One 60 minute Engineering Activity for up to 10 children ($10/additional child)
One or two staff members to run the Engineering activity
Engineering for Kids T-shirt for the birthday boy or girl
Thomas Edison Party Package (90 min) $300
Includes the Isaac Newton Party Package for up to 10 children ($12/additional child), plus:
One 30 minute add-on activity
Albert Einstein Party Package (120 min) $375
Includes the Thomas Edison Party Package for up to 10 children ($15/additional child), plus:
A second 30 minute add-on activity
Step 4: Choose 30 minute add-on activities (if applicable) from the options below.
Levitrons – Small car-like vehicle that levitates with the help of magnets inside track.
Candy Catapults – The young engineers will learn about projectiles and angles as they build and launch their own candy catapult.
LEGO® EV3 Tug Of War (Robotics)
Launchers – Hit 'em with your best shot! Build your own Launcher with EFK – send ping pong balls flying.
Glow in the Dark Play Dough Factory (Chemical)
Slime (Chemical)
More Details…
Contact us to reserve your date today! (540) 277-4331 or fill out our contact form.
Find Your Locations
Find Your Local Engineering For Kids
Testimonials
Out of This World Reviews
Abby S.
My little 3 year old is loving his weekly class!
Katie D.
Engineering for Kids is a must for anyone looking to expand their child's mind

Have Questions?
Contact Engineering For Kids